Based on the Sorrento Coast, Leisure Italy is specialized in providing personalized shore excursions, cultural tours and transfers anywhere in Italy. We offer a high quality tourist service designed to satisfy the requirements of individuals, families and group travelers.
Moreover Leisure Italy offers a special service of tour consultant for travelers aiming to discover the real, authentic Italy, its History, Art, customs and traditions: we go beyond the typical standard tours. We will help you to make the best of your travelling time.
Travelers choosing Leisure Italy will go back home with bright memories; they will be relaxed, but at the same time sure they have experienced much more than just visiting the typical famous sites.
Small private customized tours, hand-crafted experiences, exposure to true Italian experience.
This is what Leisure Italy has been delivering for the past 25 years. Let us save yourself the time and stress of planning the perfect journey for yourself and your family and friends.
Our mission is to adapt to your needs and propose the practical solutions supported by our expertise and our love for this beautiful country.
SOCIAL RESPONSIBILITY
We are just grains of sand but every single act we perform has a consequence.
Leisure Italy develops his itineraries with the active involvement of the local community: free-lance local guides and drivers, family-run farms and wineries, local producers, small businesses.
In particular we support the Preservation Project of the Marine Park Punta della Campanella and Baia di Ieranto with a donation for every tour we run there.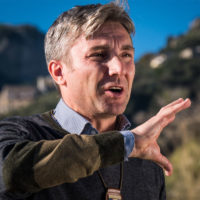 GIUSEPPE
TOUR GUIDE
In Giuseppe's eyes there is the Light of Southern Italy, in his Voice there's its Culture! He has a Master Degree in Economics with a specialization in Economic History but being a Professional Tour Guide is something written is his D.N.A.
He is the third generation guide in his family after his Father and Grandfather and he is a Licensed Tour Guide of Naples, Rome and Bologna Areas. Believe me, you do not find in Italy a tour guide with three licenses. He is also a professional driver. He leads tours in English, Spanish and Portuguese. He is an excellent tour consultant and an incredible "problems solver". He is specialized in family and small parties Tours. "I want my guests to live not a simple tour but an authentic travel experience" He always says. He likes his job tremendously.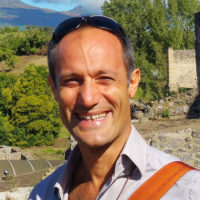 FABRIZIO
TOUR GUIDE
Fabrizio started guiding in Pompeii at the age of 17 for fun. Many years later he achieved a Master-Degree in Art History, he is fluent in 4 languages and he still loves being a Tour Guide.
Fabrizio started being a Tour Guide at the age of 17 as soon as he came back from his semester in Ontario Canada as an exchange student. He has achieved a Master-Degree in Art History at Naples University Federico II, he was a student of Poitiers CESCM – Centre of Studies about the Middle Age – during his ERAMUS Program in France. He has been a tour manager all throughout Europe and in the Caribbean for many years. He speaks Italian, English, French and Spanish fluently! His main interest today is to show his home country, trying to offer his "insight" into Italian Culture and Heritage to his guests. He has been an official guide for Naples area since 2004 and he is also trained to lead hikes through nature trails. Fabrizio enjoys travelling in and out of Italy, he likes outdoor activities and, as most Italians do, he loves sharing food and wine with old and new friends. He also has a passion for music and good books.
"There are hundreds of reasons we're travelling for, my aim is to try to understand my travellers and tune in what they're looking for. I want my guests to feel like they are in good professional hands and at the same time to feel comfortable just as if they were walking with an old friend."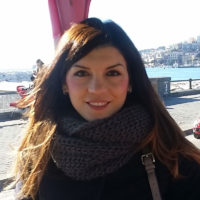 NATASHA
TOUR GUIDE
Natasha is a Licensed Tour Guide of Naples Area. She has been joining Leisure Italy Team since 2015. She is a Family Tours Specialist. She has a vehement passion for Ancient Roman History and Archaeology.
She adores to travel, to learn about diverse cultures and to meet people with different backgrounds. Guiding families and small parties of travellers is for her not a job; it's the way to combine her greatest interests with her professional expertise. "I am proud of my role" she always says! And she adds: "I am the Face and the Voice of my Country". This is the reason why she constantly tries to show visitors not just the Crust, but the Insight of Italy.