The dilemma of many travelers visiting Italy south of Rome is: should I visit Pompeii or Herculaneum?
The answer seems to us easier than the more famous "to be or not to be"! As far as you have enough reliable information. For this reason, we have decided to provide all that essential information that will allow you to choose serenely which archaeological site to visit! Are you ready? Let's get started!
Both Pompeii and Herculaneum were buried during a terrific explosion of Mt Vesuvius on the 24th of October 79 AD. And both places are equally well preserved: any visitor will be surprised by the state of preservation of ancient roads, shops, public buildings, private homes, temples, bath-houses in both archaeological areas. These ancient cities will give you the feeling of being in a time-machine, a step back 2000 years ago during the Roman Empire where you will discover what was daily life like back then.
Why Pompeii is more famous than Herculaneum? And why can one find different opinions online about which one should you visit first? To answer these questions, we need to focus a bit closer.
First of all, Pompeii is located twice as distant than Herculaneum is from the Mt Vesuvius. As a consequence, the volcanic debris covering Pompeii is "only" made out of a soft layer of 5 m. (16 ft.) consisting of pumice and ash. In Herculaneum instead, there are nearly 20 m. (65 feet) composed on the surface by a hard layer of a porous stone called tuff. This upper layer does not let oxygen through allowing the preservation of organics. In Herculaneum, you can see the remains of carbonized staircases, shelves, door frames two thousand years old! On the other hand, in Pompeii organics simply decayed due to oxidation but also preserved the "empty form" of human beings, animals and wooden items. These small cavities were filled in with liquid plaster by archaeologists during the 19th century. It was the birth of the famous "petrified bodies" which are in fact plaster casts! These "bodies" can only be seen at Pompeii, and it will be one of the everlasting memories of your Italian journey. On the other side, just as striking is the image of about 300 skeletons which were found in the 1980s by the Marina of Herculaneum. These skeletons can only be seen at Herculaneum!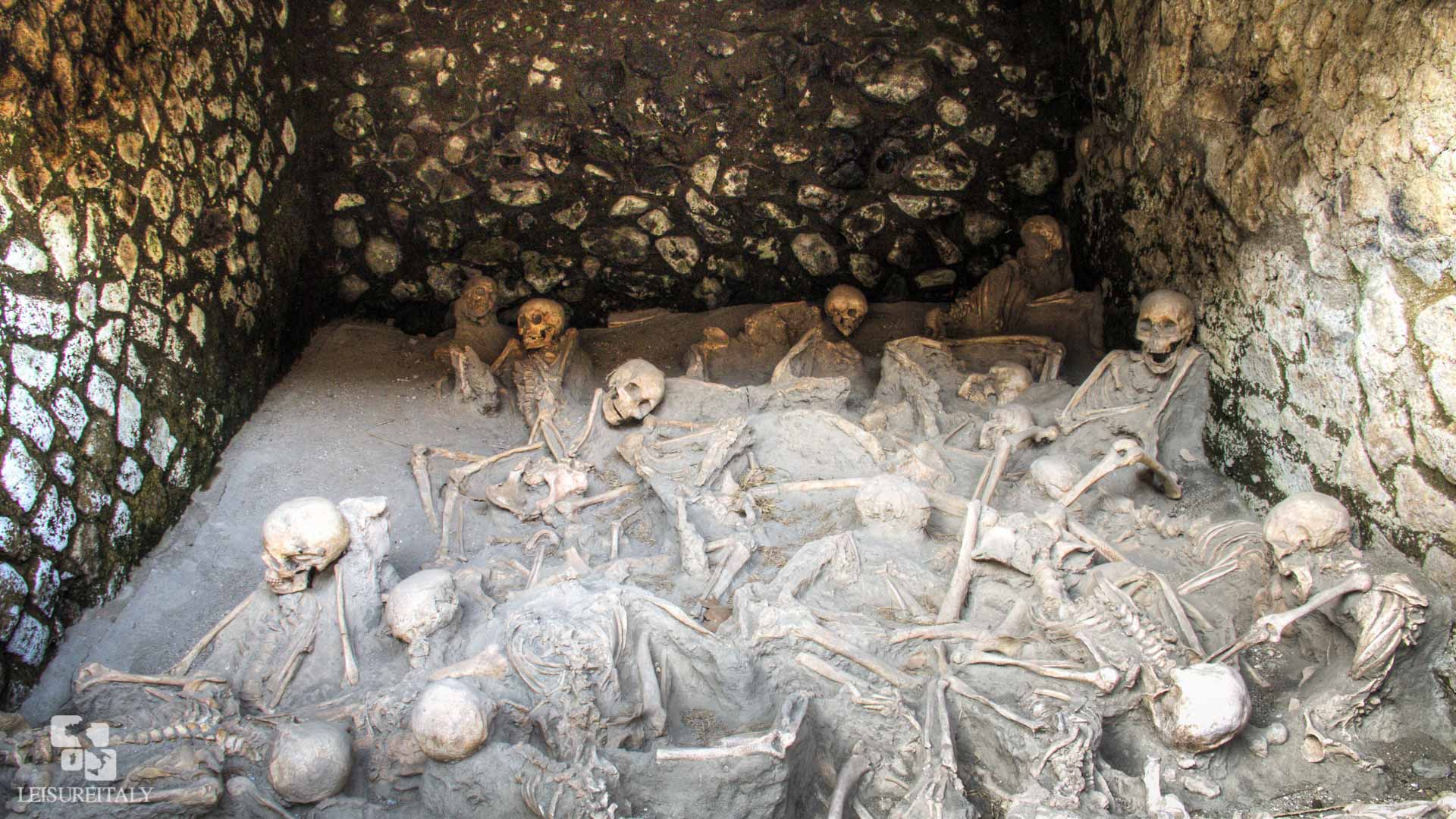 Why many visitors have the impression that Herculaneum is better preserved than Pompeii?
Because the only part of Pompeii that most visitors normally see – the area of the Forum and the Theatres -was already excavated and open to the public during the 18th century. This section of Pompeii has been exposed for long to factors such as weather and inaccurate or even illegal excavations, that did not certainly help preservation! Herculaneum instead was dug out from 1927. But if we compare the new excavations at Pompeii with Herculaneum we can see the same beautiful frescoes and mosaics.
Why then Pompeii is more famous than Herculaneum?
That too relates to the history of the Excavations: famous travelers like the German poet J.W.Goethe or the American writer Mark Twain already reported the wonders of Pompeii in their travel journals long ago. Could you ask for a better sponsor? Herculaneum was unheard of by most people until recently.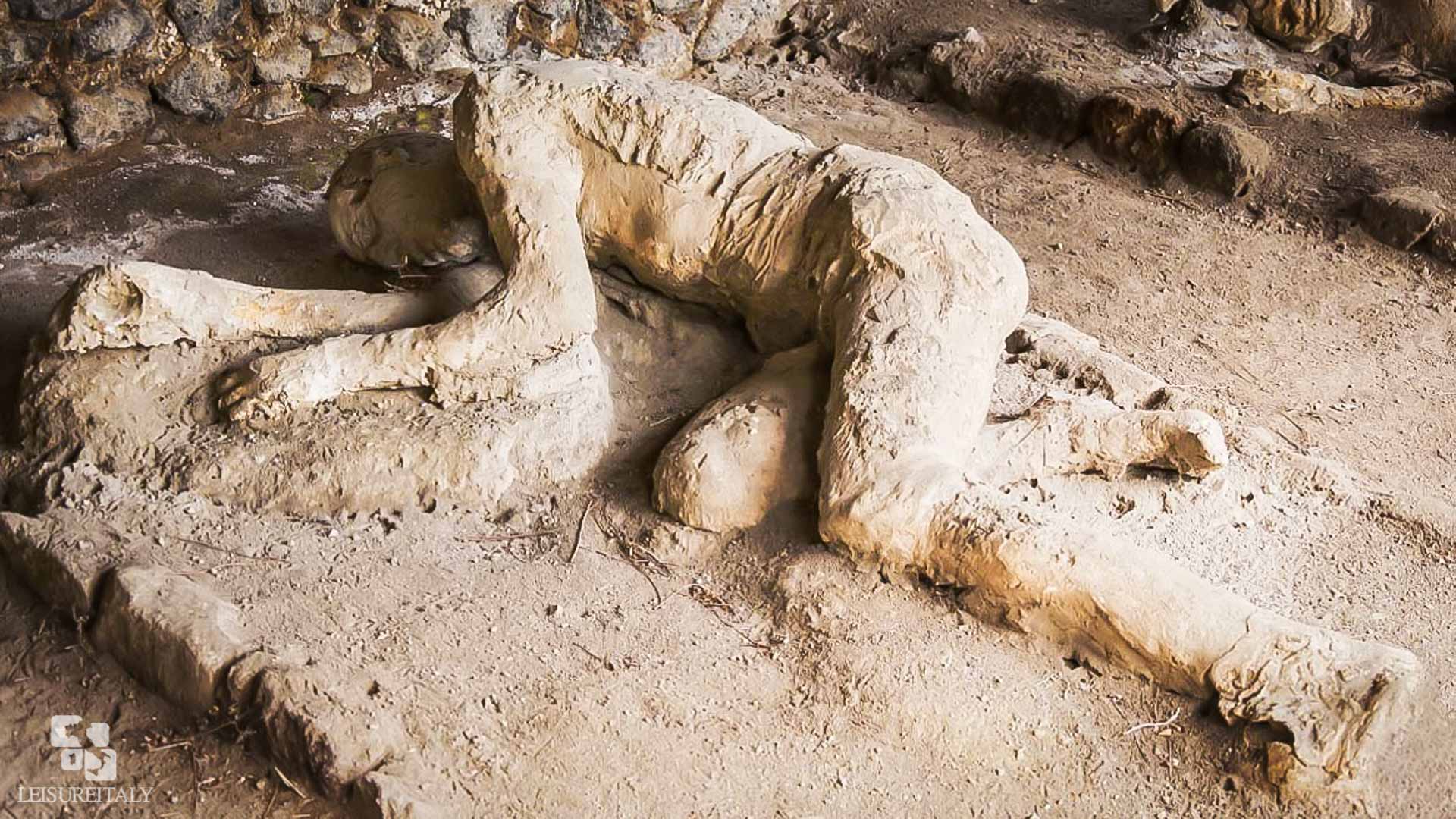 If you read this far, by now you have finally understood there isn't a "better" place to visit.
Pompeii is a large site that offers a complete vision of an ancient town, from the public to private life. Herculaneum is a smaller, compact site that offers a window opened mainly onto ancient private life.
What to do then? Which one should you choose between the two ancient Roman cities?
What you should ask yourself is "which one is more suitable for me and my party?" The choice of which archaeological site you should visit depends also on other factors such as the time available, your walking ability, whether you visit the excavations with older people or with children. In short, the choice cannot be based solely on the historical and archaeological characteristics of these sites.
Here is a list of question any traveler should ask himself:
How long can I walk for? Two hours in Pompeii is barely enough time to see some of the highlights. The same amount of time will allow the average visitor to see most of Herculaneum. If you have walking disability Herculaneum is easier to explore while Pompeii, even if it has an accessible path, is definitely more challenging.
What time of the year am I going to be visiting? What time of the day? Pompeii is more crowded during Peak Season due to shore excursions groups, so it will be easier to explore in the afternoon. Herculaneum, on the other hand, is quieter and usually less crowded in the morning and a little bit cooler. During off season It's better to visit both places before 1 pm to get the most of the daylight.
How am I going to get there? Your transportation as well counts. Herculaneum is closer to Naples; Pompeii is closer to Sorrento/Positano. If you use a car, both Pompeii and Herculaneum are on the way from Naples to the Amalfi coast. If you use the train, no matter where you start from/head to, the Circumvesuviana Railway Station at Pompeii – "Villa dei Misteri" stop – is closer to the Excavations than the station at Herculaneum – modern "Ercolano" stop.
Am I traveling with my family? If you are traveling with elderly people or children, Herculaneum can be a better decision. For teenagers instead, we may recommend Pompeii to have a more complete vision. Our experience is that young explorers will have a great time in both places if you are well prepared. Whatever you may choose, make sure you are visiting during the appropriate time of the day, do not forget to bring water and sun gears, try to stay away from the crowd. A great option to keep the whole family engaged is using family-friendly tours.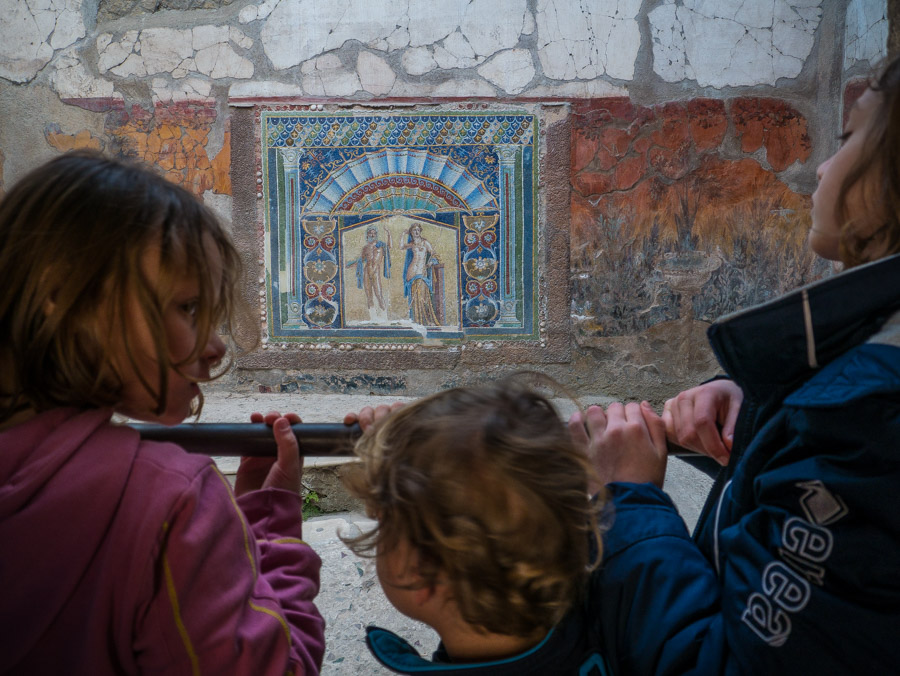 Am I planning to visit Pompeii or Herculaneum together with other highlights? In this case, everything depends on which places you are planning to visit. If your choice is to visit the Amalfi Coast or Sorrento together with one of the archaeological areas you can easily do that. Our suggestion is to keep Pompeii or Herculaneum for the afternoon and enjoy the coastal town during the morning in peak season. If you pairing Mt Vesuvius with Pompeii or Herculaneum (a great choice if you have kids with lots of energy) do not underestimate the time it takes for the climb up and down the volcano. An average visit requires 3 to 4 hours, including transport and walking to the top of the rim. It may be smart in this case to take a private tour to make the best of your time.
Is it worth visiting both Pompeii and Herculaneum? The answer, of course, is yes! But it may be a lot for a one day tour, especially during the Italian Summer. If you are really passionate in History and Archaeology, but do not want to overdo, you may think about combining one of the main sites with Stabiae or Oplontis or Villa Regina at Boscoreale. These are smaller sites off-the-beaten path and they can be a nice complement to Pompeii or Herculaneum. Or if you cannot walk on an uneven surface for a very long time, but still want a full immersion in archeology, you may choose to visit the great Archaeological Museum of Naples -MANN– where the discoveries (statues, frescoes, mosaics, etc.) from all these excavation sites have been on display since the late 18th century.
In the end, we return to the main question, the dilemma of many travelers visiting Italy south of Rome: should I visit Pompeii or Herculaneum? Well, what we can say is that it all depends on your travel needs: your stamina and walking ability, your interests, your transport, the time of the year you are visiting. Both Pompeii and Herculaneum are amazing. Whatever you decide, it is going to be a success anyway!