The Ravello Festival – 66th Edition of the great music event
From 30th June to 23rd August 2018 the suggestive village of Ravello on the Amalfi Coast will host the 66th edition of the Ravello Festival, one of the oldest and most renowned music festivals in Italy. A summer event well known all over the world that In over half a century, with its stage overlooking the sea, has hosted excellent international symphony orchestras, opera singers, composers, dancers, choreographers, actors and directors.
The kermesse this year will be enriched by 26 appointments where tradition melts with innovation and the classical meets the Avant-garde: the performances and concerts will be held in different venues around the town, including the amazing Villa Cimbrone, the breath-taking Villa Rufolo and the Oscar Niemeyer Auditorium. This unique music event has been inaugurated on 30th June with a stunning sold-out in the magnificent location of Villa Rufolo where the Finnish conductor Esa-Pekka Salonen has conducted the 102 elements Philharmonic Orchestra of London in the magnificent performance of Tristan und Isolde by Richard Wagner, the immortal German composer, who found in this very place his "magical garden of Klingsor". The concert has continued with melodies from another masterpiece of Wagner, Siegfried.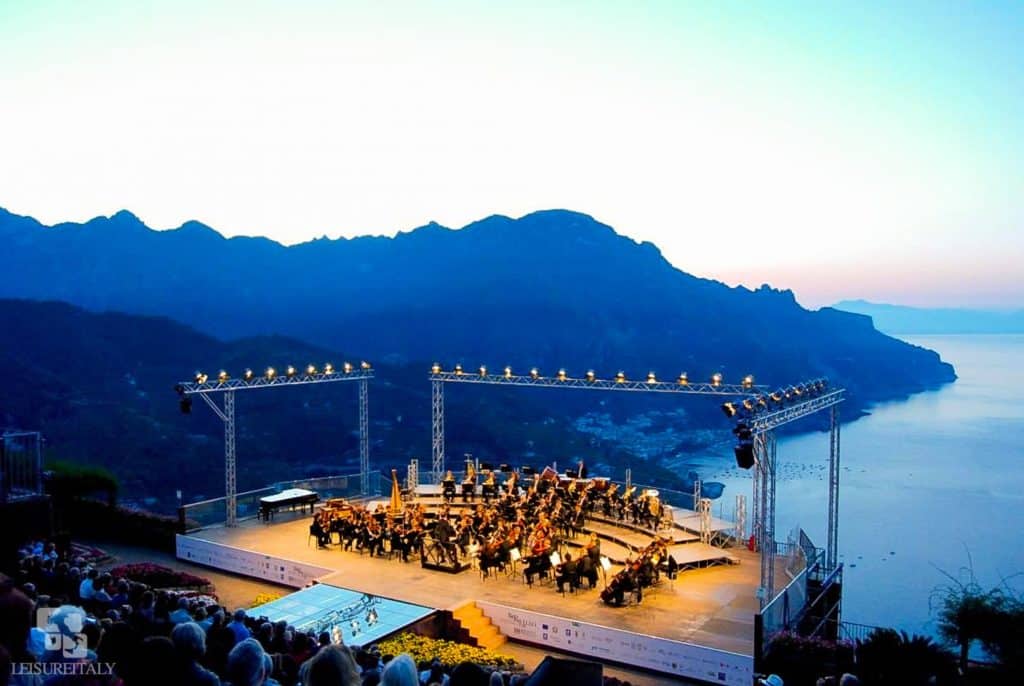 The Ravello Festival has continued Wednesday 4th July with the unique performance conducted by the Bill T. Jones / Arnie Zane company that will focus on themes like civil rights movement, human identity and holocaust that have become nowadays and once again crucial, especially in Europe. The next unmissable performances will be tonight 5th July with 1968: See me, feel me a long performance given life in choreographies with the dancers of Abballamm'! project that will take place at 6.00pm in the Piazza Duomo and will continue at 9.00 pm with Act of mercy, a choreography representation of the masterpiece "The Seven Works of Mercy" of Caravaggio at Auditorium Oscar Niemeyer.
Here the prestigious program that will enrich Ravello summer by offering many exclusive productions and performances to local and international audience. Moreover, as for the previous editions, the festival will host stunning Concerti di Mezzanotte, played by world famous pianists such Andrea Lucchesini, Sun Hee You, Varvara, Bertrand Chamayou and Federico Colli that should not be missed.
For additional information please visit the official website or buy tickets online.
THE RAVELLO FESTIVAL
30TH JUNE – 23RD AUGUST 2018
RAVELLO
Here the complete PROGRAM of the Ravello Festival.