After been guiding in Pompeii and Herculaneum for over 25 years, we feel like sharing with you some travel suggestions about visiting the Archaeological Areas of Pompeii and Herculaneum so you can have the best experience ever. This guide will provide you some useful information about the best time of the day to visit Pompeii and Herculaneum depending on the seasons.
Pompeii is a very large excavation site spreading over 163 acres. Most travelers are surprised by the size and the state of preservation of this Ancient Roman City. An average tour can last about 2 hours during which you can simply see some of the city highlights, while many independent visitors will spend over 3 hrs. You certainly do not want to waste time queuing at the ticket office or making your way through large tour groups…
You want to optimize your time to make the best out of it!
So here is what you can do based on the season in which you decide to visit the archaeological site:
PEAK SEASON
From April until the end of October most people will visit Pompeii during the morning. Our suggestion is: be smart and go during the afternoon! From 1 pm there will be no queue at the ticket office and most of the crowd will be out by that time of the day. During peak season by 9 am there is indeed a long line of people waiting for the gates to open. If you explore the excavations during the afternoon you can have a more pleasant experience and you can also avoid to pre-purchase tickets online and save on the additional fees!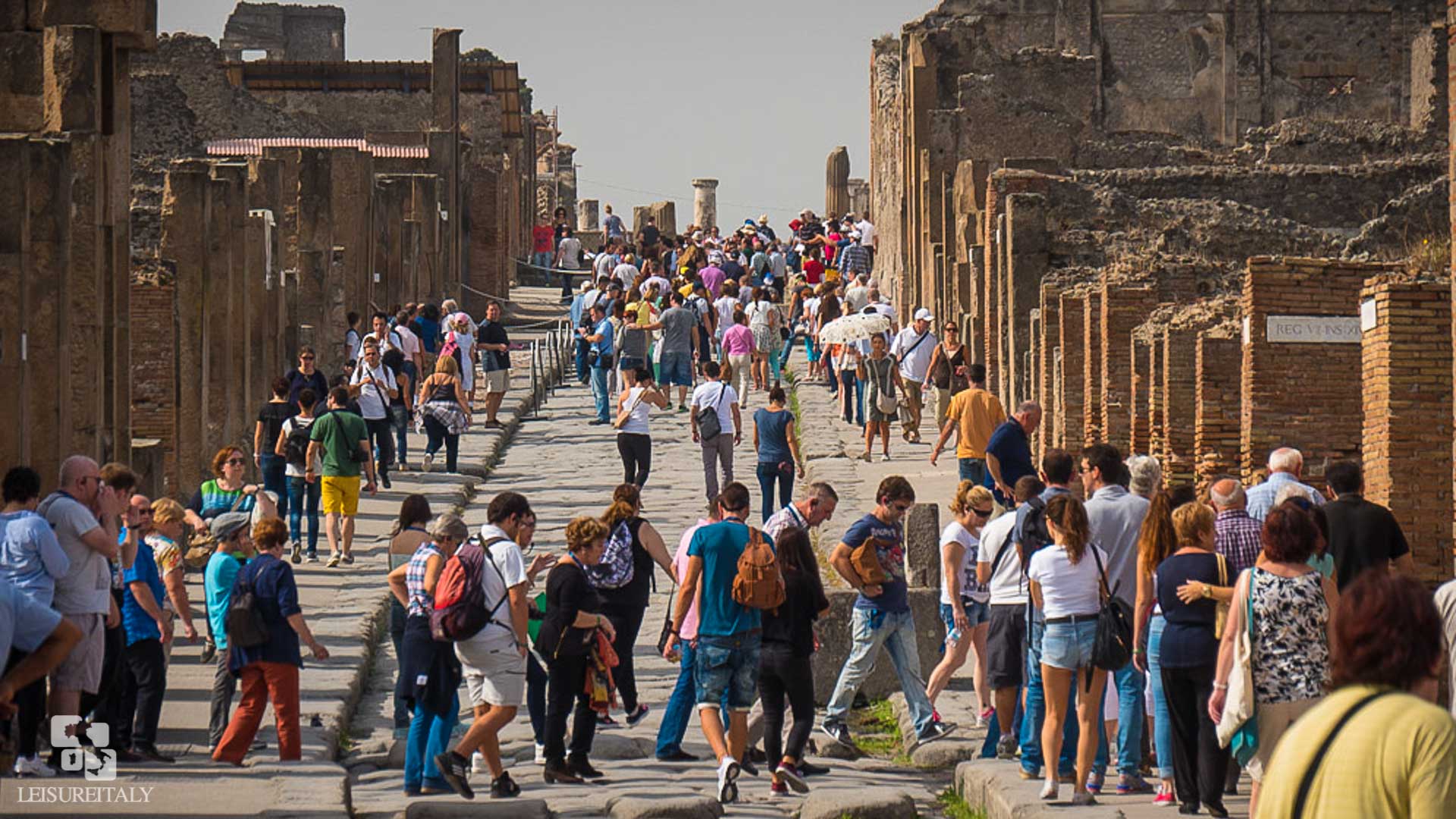 Moreover, most people will still prefer to go during the morning because of the hot summer climate. However, here is a good traveling tip you could not find on any other travel guide: from 1 pm on there often is a lovely sea breeze that blows from the Bay of Naples across Pompeii. Also during summertime. Actually, especially during the summer! This is due to warm air rising up as the day goes by on the valley West of Pompeii. Therefore, cooler air from the Mediterranean Sea enters Pompeii. It can be a true blessing as you are walking outdoor during the Southern Italian summer.
But be aware that on weekends Pompeii opens at 8.30 am, that is half an hour before standard week-days opening. Few travelers are aware of that. If you manage to be there by 8.30 am on a weekend, go for it!
OFF-PEAK SEASON
On the other hand from November until March there will not be too many visitors, this is why most people consider the off-peak season the best time to visit Pompeii. It does not make much difference when you are visiting the archaeological area. Be only aware that, during the Fall Back after 3 pm, you risk not having enough natural light to see the amazing frescoes covering the walls inside the ancient private homes. Our suggestion is to visit at any time between 10 am and 3 pm since the last entrance is allowed at 3.30 pm. Here you can find official information about the opening times of Pompeii.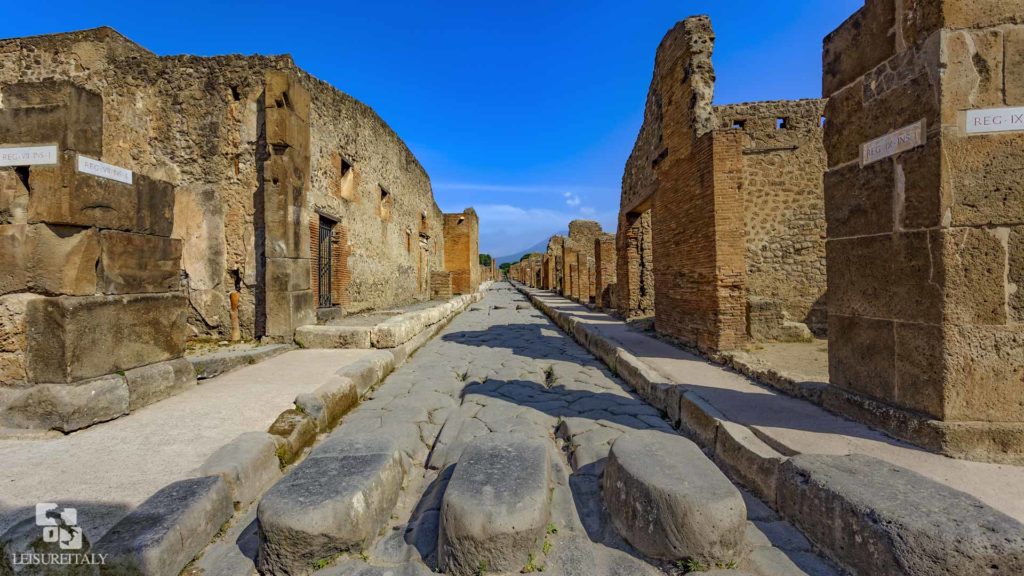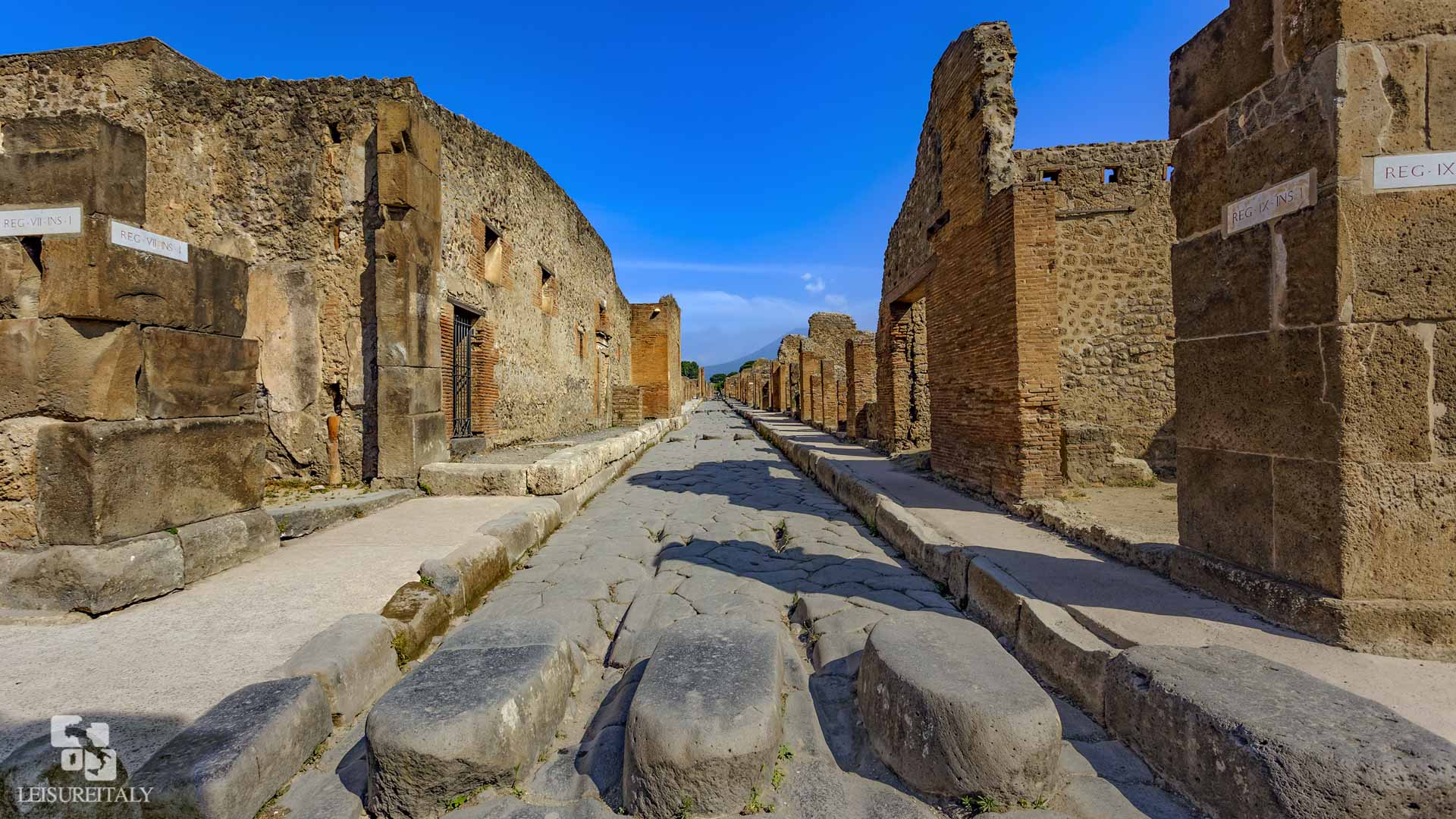 And what about Herculaneum?
Herculaneum is a wonderful place similar to Pompeii that you could choose to visit together with – or instead of – Pompeii. It is certainly much smaller and there are fewer visitors there than at Pompeii. If you are visiting both places during the same day leave Pompeii for later in order to skip the crowds.
However, be aware that in Herculaneum there is only one ticket office – compared to 3 different gates at Pompeii. Believe us we have seen long lines at Herculaneum as well! Therefore, most of the information you read above for Pompeii works for Herculaneum as well. If you can choose, visit during the afternoon!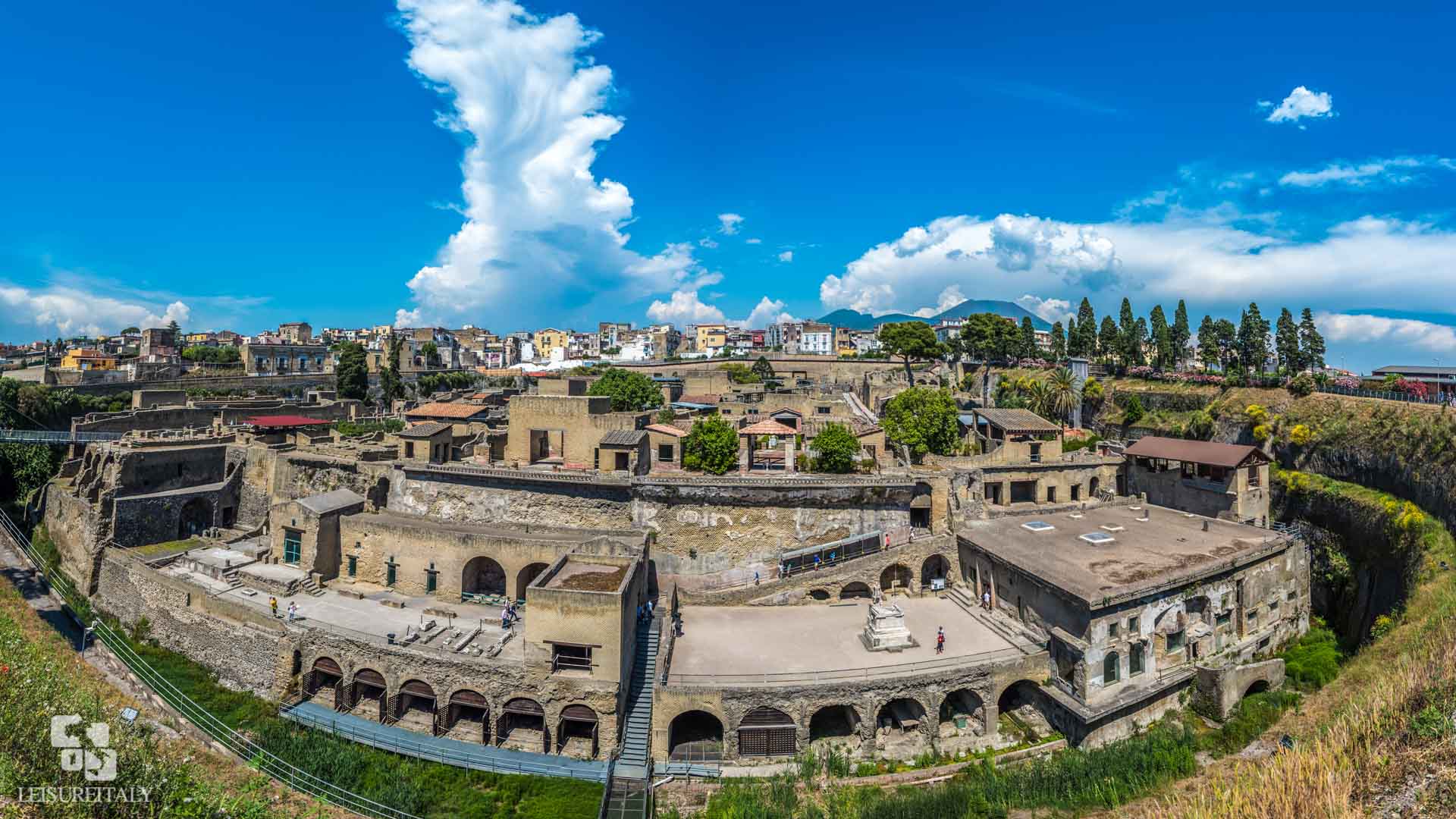 Here are more tips when visiting Herculaneum:
The ticket office opens at 8.30 am. There hardly is any line before 9 am;
Herculaneum can be hotter than Pompeii during the Summer. From May to September be there either from 8.30 to 11 am or from 3 pm to 7 pm;
During winter start your visit there before 2 pm. Herculaneum literally sits in a deep archaeological hole, so natural light can be scarce during the Fall Back. This is especially true for the area of the ancient Marina – where you can see the famous skeletons. Down there it can be quite dark by 3 pm.
Are you a Cruiser? Here some Travel Tips for you as well!
Many cruisers docking at Naples or Salerno will choose the fabulous one-day tour to Pompeii and Herculaneum or the Amalfi Coast and Pompeii shore excursion. In this case, as well we recommend visiting Pompeii or Herculaneum during the afternoon. Not only you will find fewer visitors but you are going to be closer to your port of call on the way back, which is wise. Be aware that the traffic on the Sorrento and Amalfi Coast can be a problem!
Whenever you choose to visit Pompeii or Herculaneum we hope that your experience will be unique and unforgettable thanks to our travel tips! And if you found this article helpful, don't forget to share it to help other travelers in the exploration of these unique archaeological areas!